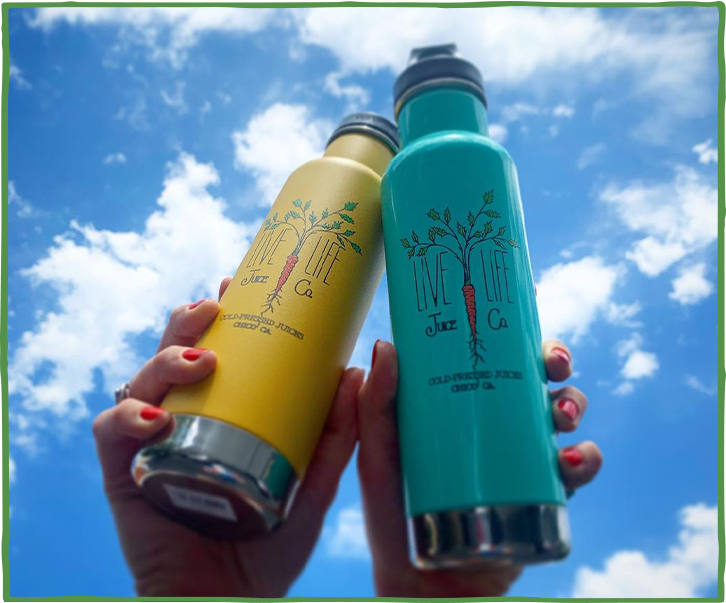 To LIVE LIFE….with a smile! Also, to feed ourselves, our families and our community well, so we can all greet each day with energy and vitality. We believe in simple ideas, with BIG implications. What you put in your body will determine how your body functions, and how you feel. Do you want to feel alive, vibrant, colorful, healthy? Then put vibrant, colorful and fresh food in your body. Our juices and fresh made food is all that, and more. Our goal is to inspire people with the desire to feed themselves well, and to offer it to our community at a reasonable price, in a convenient fashion. When you consume vibrance, you feel ALIVE. We want to provide you with a feeling of vibrance, so you can LIVE LIFE to the fullest…one bottle at a time.
My sisters and I knew for a long time that we wanted to start a "health food" business. The seed was sown when we lived in Kauai, Hawaii. One by one, all five of our sisters moved over and lived together in Kauai. It was a memorable time in all of our lives. The island life is incomparable to any other. We all worked together in the health food industry and all have a passion for good food, that not only tastes good, but feels good, and IS good! It was then, that we realized that we wanted to work for ourselves eventually, being able to express our own creative food endeavors freely and do it independently. Life has taken all my sisters in many different directions since then, across the globe, to different countries and states, many children later, new husbands and fiancés, many different jobs, but it has all come full circle and landed three of us back in Chico. We have a history of family in this area, and our parents reside here to this day. It was this circumstance that has brought us back together again. Grandchildren being with their grand-parents. Family gatherings. Cousins growing up together, baby-sitting, camping, swimming and living life in a beautiful way.
All of our ideas have condensed down to the fact that we want fresh, vibrant juice available in Chico, for ourselves, our families and our community; hence… LIVE LIFE JUICE CO. !! We couldn't be happier as a team to bring you this live, raw, unpasteurized juice….we don't think you'll be able to drink our juice without smiling…Drink to your Health!